Spectacles toutes les fins-de-semaine.
Michel Faubert et Michel Hindenoch
14 mars 2014 at 20:30

Entrée 25$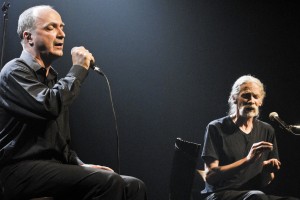 Michel Faubert et Michel Hindenoch (France), complices de longue date, ont une passion commune et profonde pour le conte,
mais aussi, et depuis plus longtemps, pour la chanson traditionnelle, ses variantes et ses musiques.
Michel Faubert est un des pionniers du renouveau du conte au Québec et foule avec ferveur le territoire immense et fabuleux de la littérature orale depuis 30 ans.
Sa passion pour la chanson traditionnelle, en particulier la complainte, l'ont mené à enregistrer en solo mais aussi, pendant 18 ans, à chanter avec les Charbonniers de l'Enfer.
Michel Hindenoch a suivi le même genre de chemin et devient conteur dès le début des années 80. Après avoir fait les Beaux-Arts, il se joint aux premiers «folk-clubs» parisiens 
et participe, en France, au renouveau des musiques traditionnelles en tant que chanteur et instrumentiste.
Depuis plusieurs années, nous espérons si vivement qu'ils se rencontrent sur scène pour chanter ensemble.
C'est décidé… ils seront en duo le vendredi 14 mars prochain.
Matthew McCully
15 mars 2014 at 20:30

entrée 15$
www.youtube.com/watch?v=077qBBI-YKQ
www.youtube.com/watch?v=yy-Gq_YMogQ
www.youtube.com/watch?v=TwKm2NjW74Q
Matthew McCully and Jesse Ens-St. Patrick's Sing-A-Long
On March 15, 8 p.m. Singer Songwriter Matthew McCully will entertain audiences for the third year in a row with a St. Patrick's Sing-A-Long.
McCully, with mandolin player Jesse Ens, will play a selection of traditional and contemporary and Irish songs, in addition to some of his own compositions.
Many of the songs are Irish classics, and the audience is invited to dance and sing along to songs like Whiskey in the Jar, Wild Rover, and The Parting Glass.
Matthew McCully is a singer songwriter living in Sherbrooke, Qc.  He recently completed a cross-Canada tour of concerts on organic farms through the WWOOF network, to raise the profile of small family farms. He also coordinated and participated in the Sugar Shack Sessions, and the Townships Heritage Tour, bringing local musicians together in support of cultural institutions and the maple industry, a unique and treasured resource in our area. He has an album called Matthew McCully and the Matter of Principle, and is currently working on a second album, due out this summer.
Jesse Ens is a singer songwriter living in Sherbrooke, Qc. He is a skilled mandolin, banjo and guitar player. He is currently studying music at the Unitersité de Sherbrooke, and also teaches music at l'école des Jeunes Musiciens du Monde in Sherbrooke. McCully and Ens met over a year ago, and decided to play together at La Caravane for last year's St. Patrick's show. The event sold out and was a success, so the duo continued to work together on a number of other projects, and are excited to return to La Caravane for another St. Patrick's celebration.