Bienvenue sur le site de La Caravane
Auberge de jeunesse,
 petite salle de spectacle,  et  restaurant les soirs de spectacle!
Si vous désirez souper avant le spectacle, il faut réserver une table.
Des chambres sont disponibles en tout temps, voir l'onglet Auberge.
Cuisine commune pour les chambreurs.
Il est important de noter que nous ne prenons ni cartes de débit, ni cartes de crédits.  Argent comptant seulement.
RECEVEZ NOTRE  PROGRAMMATION PAR COURRIEL EN VOUS INSCRIVANT À NOTRE LISTE DE DIFFUSION!
Envoyez-nous votre courriel à l'adresse suivante : lacaravane4500@gmail.com
Marta, Richard, Monica et Jason
24 avril 2015 at 20:00

Entrée 12$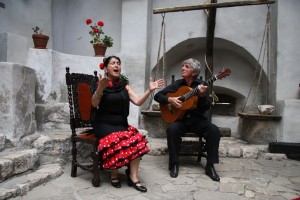 Marta and Richard have been performing traditional flamenco together as singer and guitarist for over twenty years, appearing as a flamenco duo and on occasions as accompanists for dancers. Their program of flamenco music takes them to a variety of countries, including regions where flamenco has its roots – India, the Middle East and Europe.
They were the first to present a flamenco concert in Bran Castle, (often referred to as Dracula's castle) Romania, and during June and July 2015 they will be giving concerts in Albania.
Some of the festivals in which they have performed are: the Northern Flamenco Festival in St. Petersburg, Russia, the International Guitar Festival in Bute, Scotland, the film festival SimFest in Tirgu Mures, Romania and the Intercultural Festival in Budapest, Hungary.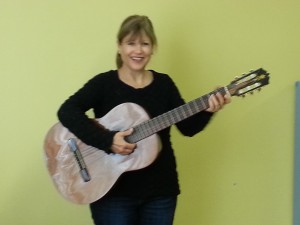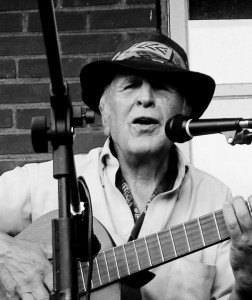 Invités:
Monica Garza et Jason Krpan
Monica has been playing the guitar and singing since she was a teenager. She is Mexican so she sings in Spanish and in a typical Mexican way. She plays all kinds of songs in French and English too but what she enjoys the most is to play traditional music, the kind that everybody sings in Mexico while in family gatherings or with friends that also like to sing and have fun doing it.
Tony Scott Band
25 avril 2015 at 20:00

Entrée 10$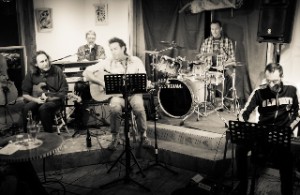 Un groupe de cultivateurs biologiques jouant des chansons moins connus d'artistes bien connus. Entre l'alimentation et le désherbage, ils présentent un concert de chansons parlant de révolution, de contestation et d'intimité.
This is an Organic Farmer based group playing less well known songs of well known Artists. Between feeding and weeding they will present a concert of songs speaking of revolution, dissent and togetherness.